A new website for The Matana Foundation for Young People to assist groups searching for funding assistance.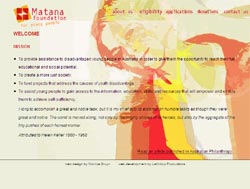 Matana Foundation for Young People is a not for profit organisation set up to assist disadvantaged young people in Australia to give them the opportunity to reach their full educational and social potential. The foundation funds projects that address the causes of youth disadvantage, and assists young people to gain access to the information, education, skills and resources that will empower and enable them to achieve self-sufficiency.
The foundation had a very basic webpage that didn't portray the drive and vibrancy of the foundation. They needed a new look and layout that would be easier for people to find and navigate, and embody the mission of the foundation.
Taking a design concept prepared by Monica Bruyn, we developed a standards compliant, tableless, CSS/XHTML site that achieved all of the foundations requirements.